Australia's most popular Defensive Driving Courses, conducted by Australia's No.1 Advanced and Defensive Driving School.
Our Defensive Driving Courses are suitable to all drivers including L Platers, P Platers, Company Fleets, and anyone who is interested in improving their driving skills and safe driving knowledge. Presented in a relaxed, friendly, and supportive environment by our qualified and experienced instructors. Our Defensive Driving Course has evolved over our 30 years of Advanced and Defensive driving experience, with a balanced mixture of theory and practical driving exercises.
We guarantee that regardless of your level of driving experience, you'll be amazed at what you'll learn on our Defensive Driving Course, and what a great time you'll have learning it with us!
The practical driving component of our Defensive Driving Course is conducted on wet road surfaces at suburban speeds. It includes a variety of driving exercises including emergency braking techniques, correct systems of car control, emergency multiple direction changes, basic vehicle dynamics, and a whole lot more. We're the only Defensive Driving School that conducts all our Defensive Driving Courses on wet road surfaces – so you'll get the most out of your learning experience.
The interactive classroom theory component of our Defensive Driving Course covers key road safety issues including – speeding, drink driving, drugs, driver distractions, fatigue management, vehicle safety systems including ABS and ESP, Defensive Driving Techniques, and a whole lot more. Please contact us for more information.
LEVEL 1 – Defensive Driving Course – only $299 for a limited time. Click here to BUY NOW.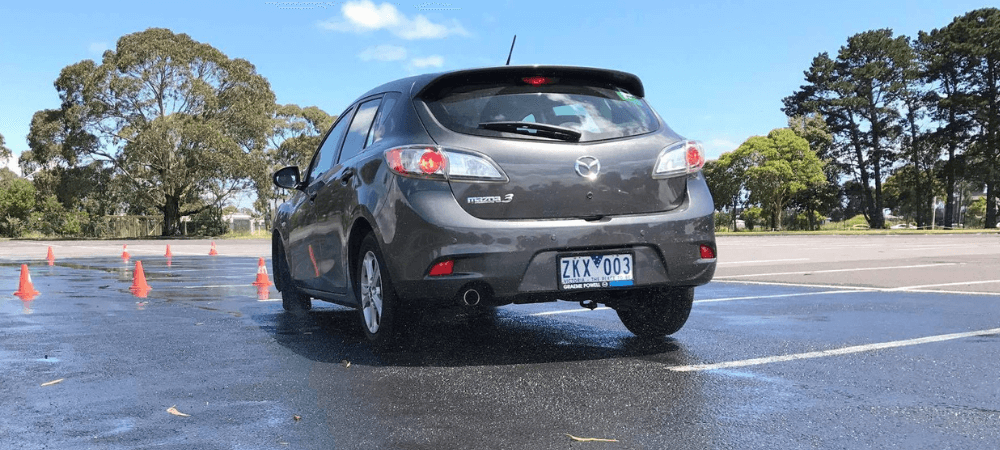 Australia's Best and Most Comprehensive Defensive Driving Program
Conducted By Australia's #1 Defensive Driving School.
Our Defensive Driving Courses are conducted on wet roads using 100% recycled water.
Course Summary
Drivers must be licensed and provide their own vehicle for this course.
Learner Drivers are most welcome, but must be accompanied by a fully licensed driver.
There is no charge for the accompanying driver of a learner driver.
We have a limited number of cars available to hire for this course at Sandown Raceway, please contact the office if you would like to hire a car for the course.
Course commences at 8.30 am and concludes at around 4.00 pm.
Cost : $398 (currently on sale for $299 for a limited time).
Melbourne, Adelaide, Sydney.
A course certificate is issued on completion of the course.
This course can also be conducted in regional areas.
Spectators not permitted.
Not suitable for pregnant drivers.
The aim of these exercises is to educate drivers in:
Basic vehicle dynamics.
The correct systems of car control : seating, vision, and steering.
Correct braking techniques for both ABS and non-ABS vehicles.
Skid causation, basic skid control, and skid prevention.
Raising the drivers level of awareness in relation to speed, reaction times and stopping distances.
Learn how your vehicle reacts in emergency situations.
Covers basic road safety concepts and the key principals of defensive driving including:
Our interactive classroom presentation covers key principals of Defensive Driving Techniques and Safe Driving Information.
Understanding of how a drivers attitudes, motivations, and risk taking behaviour can affect that drivers safety and the safety of other road users.
An in-depth analysis of vehicle safety systems.
Choosing a safe car.
Basic vehicle dynamics theory.
Speeding, Drugs and Alcohol, Fatigue management, Driver Distractions.
Defensive Driving Techniques and how to apply them to everyday driving.
The importance of correctly inflated tyres and the condition and type of tyres.
Road laws and the introduction of any new laws.
And much more!